Our second post is ready to keep things rolling!
So you have just decided on the venue for the perfect outdoor wedding: right now there are roughly seven bazillion (technical term) ideas floating in your head about the theme, decor, seating, all the way down to what types of flowers might go where.
You have gone ahead and picked a reliable tent rental supplier (if you haven't already, make sure you check out our aptly named "5 Keys To Choose A Reliable Event Tent Rental supplier")and you are ready to get kick this soiree into high gear.
So now what?
A wedding in the Great (but let's be honest, not always perfect) Outdoors is a big deal, so of course, there are always going to be concerns.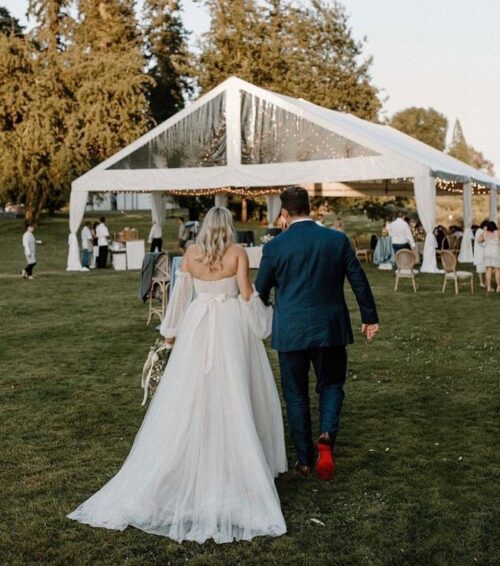 What will the weather most likely be like? Many tents are reinforced to protect from rain and snow. Some have partitions, both clear and opaque, to help deal with the wind. When you are checking the weather report, think about the kind of extra features your outdoor wedding might need. 
Now a lot of this will depend on where in the country you live and the time of year. Will it be a beautiful fall wedding in southern Ontario lake country, with a vibrant backdrop of changing autumn leaves? Or a summer wedding by the beach in Vancouver? 
Your location will be part of the vibe you are looking to create. 
Besides where in the world this wedding will take place, you will need to think about where exactly this tent is needed. 
Are you up in the mountains, or beside the pool? The tent could be in a difficult spot with limited road access, either because it is so remote, or it could be near a downtown core, where parking is scarce.
All of the above could come into play. 
Do your plans have the flexibility to change? Contingency plans for less-than-ideal weather like having outdoor heaters on hand, etc. are necessary when you deal with outdoor venues.
You likely have already picked out a theme, or motif for the decor, or have a planner that has provided you with several different options and price ranges.
Will the look you choose be funky and New Age, or more rustic and traditional? 
You can always choose to push your creativity for a wedding that is completely outside the box or opt for an event for the whole family to remember that is classic and timeless. The choice is yours.
Now we get down to the wedding tent itself. Considering all the concerns we just went through, what type of outdoor wedding tent makes sense for this event, and what types of factors might weigh in on your decision? 
Let's dive in!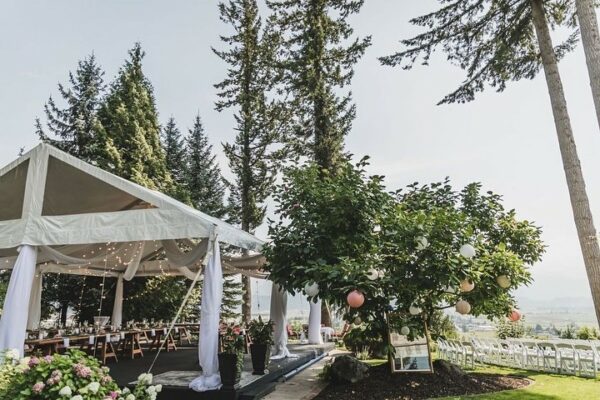 1. Permission to party, your honour? Decide if you need permission to have a tent at your venue/location.

Deciding on a venue for your outdoor wedding with a tent is crucial.
When you are picking your venue, many locations will require you to receive permission before placing a tent of a certain size, or perhaps any size, first.
At this point, either you or your event planner should approach the venue host (respectfully and well in advance) and ask if permission is needed.
Next, the nitty gritty details: What are the exact dimensions of the area where the tent will be placed?Is the ground level?
Modern event tents are extremely versatile and structurally very strong, so if there is an area with uneven ground, it should not be much of a problem with the right choice of flooring.
Lastly, you should think about whether or not you need to secure the tent itself. Is it possible (and desirable) for the tent to be staked into the ground?
This may require a little or a lot of additional prep time, so make sure to take this into account when you are looking at the timeframe of preparation leading up to the wedding.
2.So how many people are coming to this thing? Track the number of guests expected.

When planning outdoor tents for parties, an event planner will usually have an approximate idea of the number of guests expected.
This number (let it be known far and wide) is not written in stone.
There are those pesky cancellations and other guests that seem to get added to the list at the very last minute.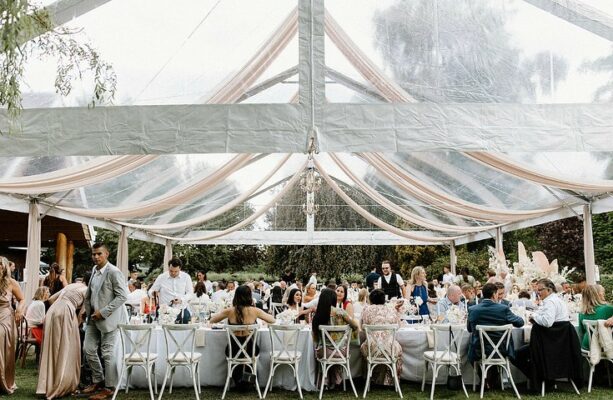 You might be shocked to learn that the average Canadian wedding consists of 120 guests! So don't be surprised if that list fluctuates quite a bit in the lead-up to the big day.
You and your planner or event planning group will most likely have a pretty good idea of the number of guests that are expected. When you have an idea of the number of guests, you get an idea of the number of tables you will need on the day (or night).
Usually, as a rule of thumb, each person will require anywhere from six to fifteen square feet of space each (six being the personal space per person for a wine and cheese party, fifteen being a formal sit-down dinner) so you start to get a good idea of the total space you are looking at.
The number of tables is the biggest factor in calculating the approximate square footage you will need for your tent, along with whether or not you have a stage, a long table at the front, or an anteroom where people can prepare food or arrange decor.
3. Everybody report to the dance floor. Wait, do we even have one? Make sure you have enough floor space.

You and your planner, when going over floor plans and seating, will likely come up with a rough figure on the square footage you need. so go with that and maybe add an extra 5-10% of your total to your estimates, just to be on the safe side.
Nothing is worse than moonwalking across the dance floor… only to find you have run out of dance floor!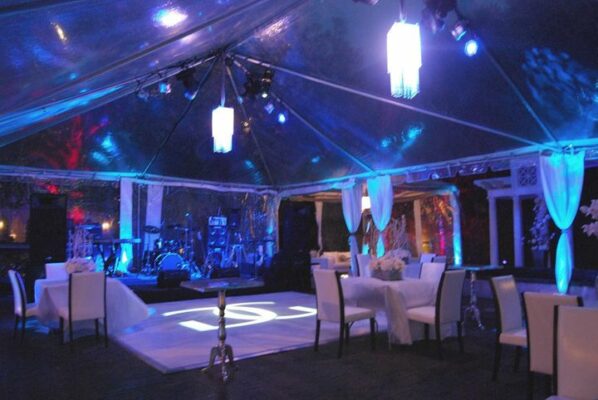 Many weddings will have personal touches that can make the event, like elaborate walkways for guests with floral arches or special lighting rigs.
Besides the reception space, people may want a fully stocked wet bar, or a stage big enough to host a full rock concert!
There are often extra prep areas and waiting rooms where the real behind-the-scenes work gets done to make the event go smoothly, so it helps if everybody has enough elbow room.
4. Accessories, accessories, accessories.

You've gotten your permission(s), you are starting to nail down the approximate numbers of guests and tables involved et cetera, and in turn, you have got a good idea of the floor space, so what's missing? 
Flair. Panache. Maybe a set of double doors? A retro look, velvet curtains, maybe a clear window to take in the scenery and revel in the moment. 
Doors, windows, archways, whatever the mood, it's all about the accessories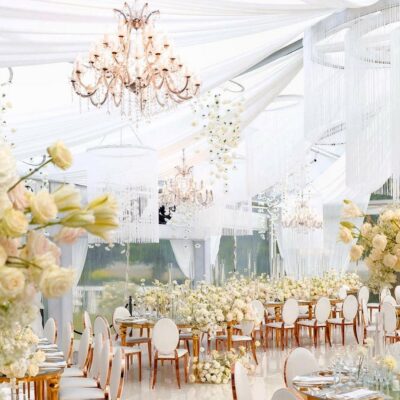 5. Here today, gone tomorrow. Scratch that; make it next week. Estimate accurately how long you need the tent to be in place.
Will you need this beautiful masterpiece of tent architecture for a few hours or a few days? 
Nowadays a few days to a week is not out of the question. 
When looking at their construction, a frame tent is relatively lightweight and easily constructed, suitable for a shorter timeframe. 
A clear span tent may be a stronger, more durable choice for outdoor weddings that last over a few days. In the end, it all comes down to the timeframe that you need.
Anything is possible when it comes to a couple's special day (or days) so make sure to consider everything.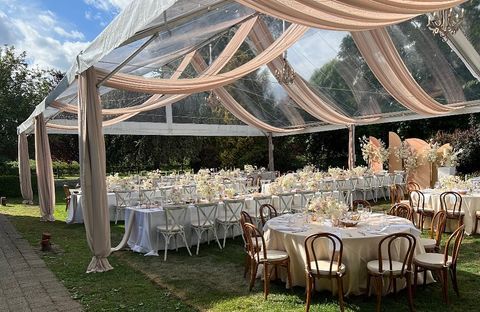 Decision time
So now you will begin to have a clearer picture of what you need from:  getting permission to have a tent in place, taking account of the number of guests expected, and making sure you have an ample amount of square footage for your tent. 
This will allow you to zero in on the right size. 
You have looked at the type of accessories you want (and need) and also figured out how long you need the tent for, whether it be over a few hours or a few days. 
Clear span tents and frame tents are two options that comfortably cover both ends of that spectrum.
When making your choice, remember that it's okay to think outside the box, and anything is possible on a couple's special day. 
One of North America's premier event tent rental providers, Elevation Tents can help make your outdoor wedding a smashing success!
 Elevation Rental's professional staff can assist you with custom orders based on your unique vision, as well as computer-aided-design (CAD) drawings of your venue, and a comprehensive site inspection. Contact us today to learn more!
Like what you just read? 
Then subscribe to our blog for more tips on planning outdoor weddings, finding a reliable event tent rental supplier, and more!
Did you find this helpful? Well, we have more where this came from so why not hit subscribe below and let us help you take the guesswork out of your tent rental planning. You'll be a pro in no time!