So, things are coming along. You are nearing the finish line for your event. 
Everything is almost perfectly in place. Selected the right event tent supplier? " Check. " 
You know what event you are holding and how many people will be in attendance, so you have a good idea of the space you need. " Ditto."
Maybe you read our previous post on Frame Tents vs Clear Span Tents, and after that, you took our advice, did your homework, and selected the appropriate type of tent that fits your function. " Of course."
Look at you. You are going to pull this off without a hitch!
But what could make things even better? Maybe something to transform and protect this outdoor space, but with comfort and style, maybe a little pizazz? " Absolutely. "
That would help seal the deal. And a great way to do exactly that is through the use of tent sidewalls. In this post, we will talk about sidewalls and what they are, exactly. We'll explore the types of tent sidewall designs available, how they can benefit outdoor events, and ways you can customize them to suit your needs!
What are tent sidewalls?
Tent sidewalls (or tent side panels) are walls that you can attach to the tent frame that can be completed with windows and a doorway or other accessories, for added protection from the elements.
You need tent sidewalls to protect and provide shade for customers or guests attending an outdoor event. It is one of the most important parts of any tent structure, and they're available in a variety of sizes, shapes, and materials.
Depending on the type of event, different types of commercial tent sidewalls can be used. These vary from galvanized steel with a powder coat finish to lightweight vinyl banners – all depending on the kind of shelter needed.
Sidewalls add value to a tent's overall look and feel by creating an atmosphere perfect for any occasion such as weddings, concerts, or graduation ceremonies. 
To choose the right type of sidewall for your event, it is essential to understand all your options when it comes to choosing among different types of tent sidewalls.
Types of tent sidewalls include:
Do tents need sidewalls?
Tent sidewalls are an important component of tents, providing shelter and protection from the elements. They also come in a variety of materials and styles to fit different needs, including sideline tent walls with or without windows, screened sidewalls, vinyl sidewalls with or without windows, and economical canvas sides. No matter the need or budget, there is sure to be a side wall type available to fit any tent's needs.
Commercial tent sidewalls often require special options that are long-lasting and able to withstand more abuse than residential tents. This is where durable high-grade vinyl sides come in handy for high-traffic events. 
Different types of tent sidewalls also exist for all types of weather conditions from mild windscreens to thick insulation-based canvas walls that block out the cold during winter months. 
These sidewalls even feature variations like visibility panels that enhance live performance events or sports activities inside a tent structure.
Kedered Sidewalls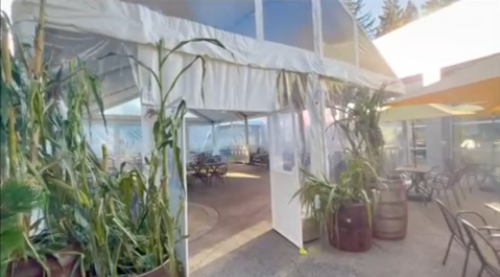 Kedered sidewalls are premium sidewalls, of higher quality and durability, that hold the heat in and stand their ground against higher winds and colder temperatures. Available in solid white or clear.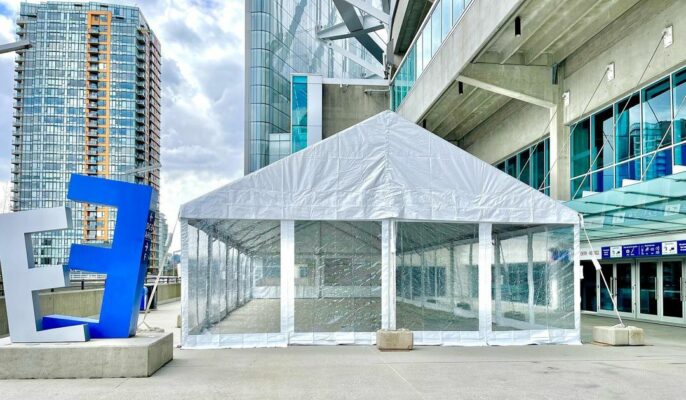 A must for fall and winter gatherings, kedered sidewalls fit inside the frame of the tent and lace up in the middle, so they can open and close like a curtain, giving that subtle air of sophistication while being functional.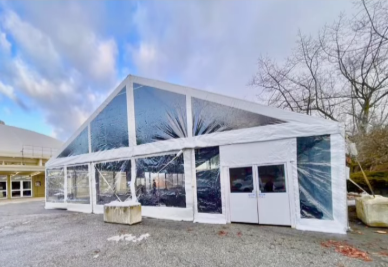 Dual-clip Sidewalls
Dual-clip sidewalls are lighter-duty sidewalls, that fasten with straps to the perimeter and legs of the frame of the tent.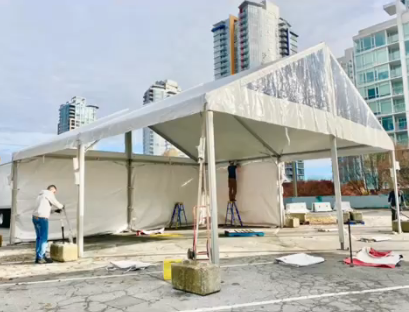 They are more economical for those on a budget, and like all tent sidewalls available from Elevation Tents they are flame retardant and follow all local fire codes.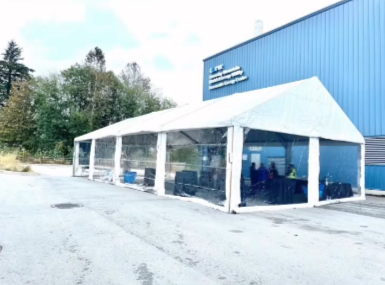 Solid White Sidewalls
Solid white sidewalls are an industry standard and worth the investment. They have been used year after year for everything from school check-ins to outdoor dining and will most likely be used for years to come. Durable, and cost-efficient, they do the trick; keeping the people in and the weather out!
Clear Sidewalls
When you want something a bit more transparent, clear sidewalls are what is called for,  adding beauty and style and more importantly, visibility even when being used as a barrier. 
They are made of transparent plastic material and come in different sizes and various opacities so that you can choose the level of visibility that best suits your needs – from fully clear to a one-way mirror that allows your guests to see out but not in. 
Not only do these clear panels protect from inclement weather, but they can also allow more light into the space making it brighter inside the tent during the day.
Clear tent sidewalls allow sunlight in without letting wind or debris inside, and the added visibility you gain by using clear plastic tent walls helps make it easier to watch out for your family or guests during festivals or other large gatherings.
Door Sidewalls
Most door sidewalls are dual-clip walls with a high door opening and alternately, have two vinyl zippers on each side that roll up and are secured at the top with straps and buckles.  
They tend to be used for outdoor festivals and large community events, for the most part.
Drapes Sidewalls (Tent Curtains)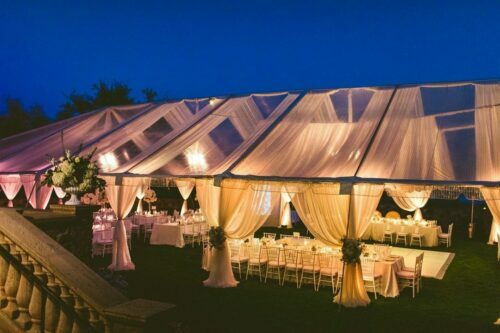 Though maybe not a true sidewall, and maybe more in the realm of decor, drapes sidewalls, or tent curtains (as they are sometimes called) add a touch of elegance to a  gathering, especially if it is formal or semi-formal, adding various sheer fabrics to decorate the solid white sidewalls of a tent.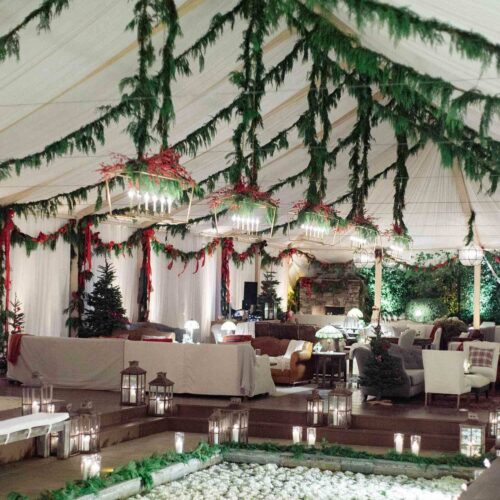 Maybe they are not strictly a wall at all (hey that rhymes!) but all in all, drapes sidewalls are a nice finishing touch that class up any event.
Window Sidewalls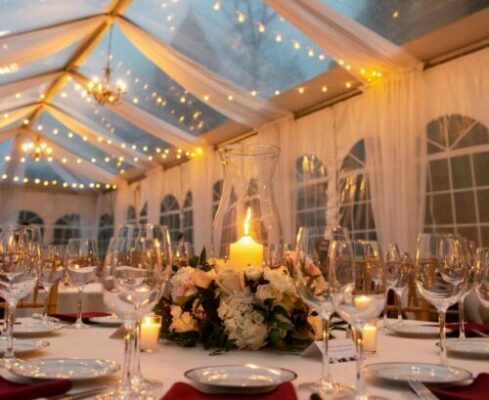 These are pretty self-explanatory; tent sidewalls with windows.  Either one or a series of windows are part of the actual commercial tent sidewalls, and they are usually made from vinyl that is UV, fire, and water resistant. 
In conclusion, tent sidewalls are a must-have accessory for any outdoor event. They offer protection from the elements, provide privacy, and add style to your event. 
Whether you are looking for sidewalls for a wedding, festival, or corporate event, it is important to consider factors such as material, size, and ease of installation when choosing the right sidewalls for your needs. 
With the right size and style, tent sidewalls can help to create the perfect atmosphere for your guests, no matter what the weather brings!
Did you find this helpful? Well, we have more where this came from so why not hit subscribe below and let us help you take the guesswork out of your tent rental planning. You'll be a pro in no time!