WHAT IS A UTILITARIAN STRUCTURE?
A utilitarian structure (as we like to call it) is a type of shelter that is installed typically for longer-term projects.
Utilitarian structures come in various sizes, ranging from small utility structures to large-scale structures that can accommodate thousands of people.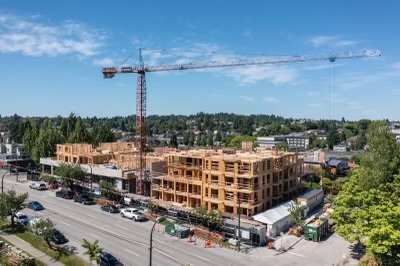 HOW A UTILITARIAN STRUCTURE CAN HELP WITH YOUR PROJECT
Utilitarian structures serve a variety of purposes, such as:

They can serve as temporary storage space and protect expensive equipment and tools from the elements, keeping them safe and secure from theft or damage.
Utilitarian structures can also serve as designated spaces for meetings, briefings, and training, providing a quiet and comfortable area away from the noise and chaos of a job site.
Providing much-needed shelter and relief during evacuations and other emergencies.
And let's not forget the lunchroom space, where workers on a job site can take a break and enjoy their meals without worrying about the weather.
Overall, utilitarian structures can be a convenient solution for construction, office space, short-term housing, and more.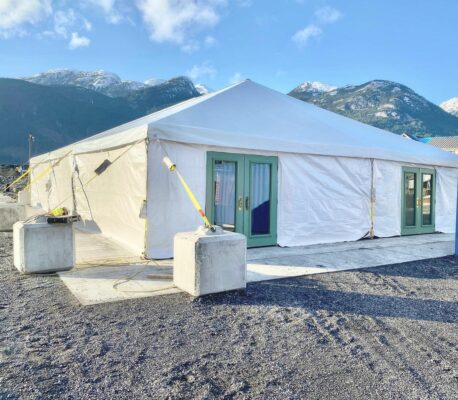 HOW TO CHOOSE THE RIGHT TEMPORARY TENT STRUCTURE FOR YOUR NEEDS
Choosing the right temporary tent is an important decision that requires careful consideration of several factors, including:

• Is This Structure Engineered for Your Needs ?
All structures over 600sqft that we provide are fully engineered in accordance with all municipal bylaws.At Elevation, we can supply any size structure from 1000 sq. ft. up to 10,000 sq. ft., with the roof and walls of each structure available in both clear and white fabric.This type of tent can be installed on any surface, including uneven or sloping ground, and can incorporate a range of features such as heating, lighting, power, and air conditioning.These options offer varying degrees of flexibility and can be adapted to suit a range of needs and budgets.

Wind ratings determine how your structure will handle strong wind gusts. Our structures come with a 90 km/hr wind rating along with reinforced safety straps and tubing.

Given the increased snowfall in the Lower Mainland every year, the importance for a strong snow load rating for each structure is paramount.In addition to a properly snow load frame, heat is needed during times of excess snowfall to ensure maximum rating efficiency.

•  Flame Resistant Fabric
All of our structures come equipped with the flame retardant material that conform with the National Fire Protection Association (NFPA) 701, small scale CAN/ULC-S109- California Code Title 24.

The ability to customize the interior of a tent can help create a functional and usable space.Elevation can create any type of interior space to suit clients needs.

The safety of your crew, equipment, and assets is essential, particularly for projects that take place over several days or in remote locations.Our structures are fully ballasted with construction-grade concrete blocks, and we can also provide an engineered, elevated understructure as the base. This eliminates any direct contact between the ground and the floor of the tent, making it even more secure.

Choosing the right utilitarian structure involves careful consideration. Is it engineered, is it wind and snow load rated? Does the structure conform with NFPA standards? What are your interior and security needs? All of these are important factors when assessing your needs and the nature of your project.
It's also important to work with a reputable supplier or rental company that can provide expert advice and guidance on the selection, installation, and maintenance of your utilitarian structure.
Whether you're creating a temporary office, or dealing with a crisis situation, a well-designed and executed utilitarian structure can enhance the success and impact of your project.
Remember to subscribe to our blog to learn more about the benefits of rental tents and how they can help you achieve your goals!Utility tents (check out our post " Frame Tent vs Clear Span Tents ") can work like giant umbrellas for facilities being built.